​We went to St. Mary's Kansas. So of course I broke out the camera on the way. Check out the footage in the video of Willard bridge, it is an old metal bridge probably 100 or so years old, and you can see right through the grates. Awesome to say the least. They are building a new one right beside it. Probably going to tear it down or something, not sure. Also shot some footage of the town of St. Mary's pretty sweet little town. Cool to see.
Thanks for stopping by. Help me grow by subscribing to my channel sharing my video links and viewing my posts and videos. Thanks and enjoy!

Powered by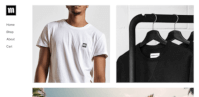 Create your own unique website with customizable templates.